Below are a number of resources and recommended links that could be of general interest to you, my website visitors. Enjoy!
Power Supplies – The Good, The So-So and the Pile-O-Poop:
These are the various power supplies Atari released. When the bad (pile of poop) power supplies go out, they will take some of your IC's with them. This is why socketed motherboards are so sought after – Easy repairs.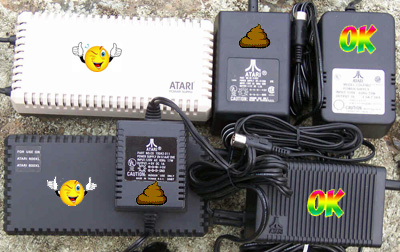 The ones that are OK can give good service without too much worry. The best ones (thumbs up smiley face dude) won't take your IC's out when they go, and can be rebuilt if or when they do.
Atari Related Links:
8-Bit Music and Retro Podcast Links:
Vintage Computer User Groups:
Classic Computer and Retro Gaming Expo's:
Other Links:
If you would like for me to add a link to your Atari 8-bit or other retro computer related site, or if you find an issue with a third-party link or its content, please let me know.