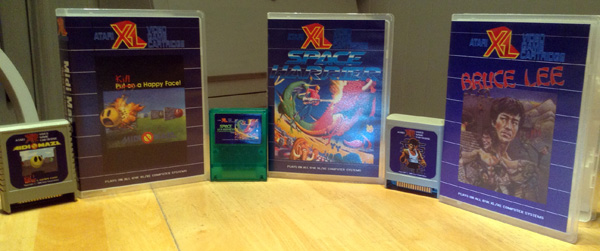 Available Custom Projects By Paul:
5 – Space Harrier XL/XE – Custom case, green cartridge with professional label (requires 64k) – $50 + $6.80 shipping USA Only
5 – Midi Maze – REAL Atari board – Custom case + Label – $50 + $6.80 shipping
5 – Bruce Lee – REAL Atari board – Custom case + Label – $50 + $6.80 shipping
5 – Atarimax Multicart – Programmed** – $50 + $6.80 shipping
** I can put 40-50 games on a Atarimax Multicart cart, with menu. Let me know what games you want, and I program it.
– Combined shipping available. I can put up to three custom XE cases in one padded envelope to save you some dough. –
Note: I usually do five at a time, so when they are gone, give me time to make more.
SERVICES (mods, hacks, restorations, etc):
Ultimate 1mb upgrade with parts
Simple Stereo upgrade with parts
Complete Restoration
Troubleshooting and Repair
Please use my contact page for inquiry on any service requests.
Placing an order:
Send me a BRIEF, concise email, and I will get back to you ASAP. I'm one guy, who has a Job, and a LIFE and I intend on keeping both. Getting a great product out to you is very important though. I reserve the right to say, "No Soup For You" If you spam me or just generally bug me to much. Keep it simple. Look at the list and order what you want. I will be fair on shipping but have to include my time. I take PAYPAL, so I can send you an Invoice.
Payments and Shipping:
Note: I take PayPal only. Carts are shipped USPS, hardware is shipped UPS only (They do a superior job).
In Some cases I will make special payment arrangements. I will send you a PayPal invoice. When you pay it, I will pack the item up well, and head to UPS. I will then take a photo of the UPS receipt (with tracking) with my I pad and Email it to you promptly, so you can impatiently track your goody every step of the way, like I do. It will be insured, but keep in mind the farther it goes, the chances of a disgruntled employee kicking it around like a soccer ball increase.

Inventory and Prices subject to change without notice. All prices are in USD. Shipping to USA only. Please Contact me to confirm stock.
Return back to my main for sale page.
This page was last updated on June 6, 2017 – 6:50 pm PST